The H350 (Ironkey)
Encrypted Drive
The H350 is a true military-grade, enterprise class mobile storage device for government and business. It's not only ultra-compliant, it's also available in a Basic edition for standalone implementations or the Enterprise edition, which allows for remote management.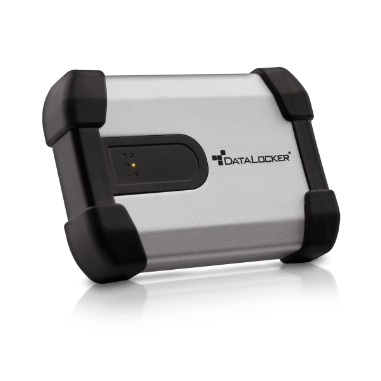 H350 benefits
Simply Secure
Hardware-based AES 256-bit XTS mode encryption provides military grade protection to help prevent data breach.
FIPS 140-2 Level 3 and NATO Certified
Meets some of the highest security and compliance standards in the world, to ensure your org's data is safe no matter what.
Built to Last
The H350 is built to survive years of wear and tear. The internals are shielded by a solid, tamper-resistant enclosure.

Remotely Manageable
With SafeConsole®, admins can remotely lock, erase, or render devices unusable, and much more. Requires H350 Enterprise edition.
H350 MANAGEMENT
The H350 Basic
Configure in seconds,
secure data forever.
The H350 Enterprise Managed by
SafeConsole
All standalone features plus the ability to
remotely manage a fleet of devices via
SafeConsole.
H350 Features
Simply Secure – AES 256-bit XTS mode encryption with no software or drivers needed for standalone mode. The H350 Enterprise edition is also manageable by SafeConsole.

Powerful Password Protection – Password hashes are stored inside the DataLocker Cryptopchip instead of the drive, making the H350 ultra secure. The H350 also supports strong passwords, password aging policies, and more.
Multi-Language Support – An intuitive user control panel available in eight languages helps reduce help desk calls and streamlines the user experience for people all over the world.
USB 3.0 Performance – High transfer speeds thanks to the USB 3.0 interface. Far superior to read/write speeds available on USB 2.0 drives.
Multiple Capacity Options – Available in capacities of 500GB, 1TB or 2TB, the H300 encrypted drive can accommodate all your data, documents and applications.
Built Tough – Designed to survive years of wear and tear. Internals are shielded by a hardened, tamper-resistant enclosure to keep the device functional for years.
H350 MANAGED Features*
Remote Device Detonation – Lets admins functionally destroy the device and its data remotely to protect against data or encryption key theft (Admin configurable. Requires SafeConsole).

On Board Anti-malware – Automatically scans files and quarantines/destroys bad apps/files based on policy settings (optional upgrade. Requires SafeConsole).

Comprehensive audit Capabilities – Have a complete record of file activity (including name changes on the device), password attempts, device locations and machines, device health, and policies in force (Admin configurable. Requires SafeConsole).

Data Geofencing – SafeConsole uses geofencing, trusted networks, and ZoneBuilder to ensure a device changes its security posture based on its location (Admin configurable. Requires SafeConsole).
SPECS
*H300 is manageable by SafeConsole. Individual features may vary. Requires separate SafeConsole license.
CAPACITIES
HDD: 500GB, 1TB, 2TB
DIMENSIONS
26.8 X 86.6 X 124.6MM
(1.06″ X 3.41″ X 4.91″)
Security Features
AES 256-bit XTS mode
Hardware-based encryption
Hardware-based password
protection
Automatic data protection upon
device removal
Tamper-resistant, aluminum
enclosure
INTERFACE
USB 3.2 Gen 1 (BACKWARDS
COMPATIBLE)
Type A Male to Micro B cable
included
STANDARDS AND
CERTIFICATION
FCC
CE
C-TICK
ICES-003
VCCI
BSMI
KCCWEEE COMPLIANT
ROHS COMPLIANT
SECTION 508 COMPLIANT
System COMPATIBILITY
Compatible with Windows® and macOS®. Limited
compatibility on Linux
Citrix Ready (XenDesktop, XenApp
compatible)
LANGUAGES
English, Traditional Chinese,
Simplified Chinese, French,
German, Japanese, Korean, Spanish
TRADE AGREEMENTS ACT
COMPLIANT (TAA)
ASSEMBLED IN U.S.A.
PART NUMBERS
MXKB1B500G5001FIPS-B,
MXKB1B001T5001FIPS-B,
MXKB1B002T5001FIPS-B,
MXKB1B500G5001FIPS-E*,
MXKB1B001T5001FIPS-E*,
MXKB1B002T5001FIPS-E*
WARRANTY
5-year limited warranty