Encrypted Storage
Secure Your Data with Enhanced Protection: Discover the robust security of DataLocker drives.

Portable. Secure. Ultra-compliant.
*FIPS and EAL certifications depend on device.
Portable. Secure. Ultra-compliant.

The ultimate solution for portable data security. DataLocker drives offer portability and ease of use while providing military-grade AES 256-bit encryption, ensuring your data remains safe.
With their sleek form factor and up to FIPS 140-2 level 3 certifications, you can enjoy large capacities and robust security in one device.
Take your endpoint security to the next level—portable, secure, and ultra-compliant. They require no additional software for encryption, simplifying the process even further.
Designed to meet TAA compliance standards, these drives come in capacities of up to 15.3 TB, allowing you to securely store massive amounts of data.
Centralized Control.
Enhanced Security.

Harness the Power of SafeConsole:
Uncover the Key Benefits of
DataLocker-Managed Drives
Centralized Management
• Efficiently administer and control multiple drives within your organization
• Enforce security policies
• Remotely manage access permissions
• Track the usage and location of the drives
• Simplify administration and enhance data security across your infrastructure
Compliance and Auditability
• DataLocker-managed drives offer features supporting compliance with industry
regulations and data protection standards
• Built-in audit logs and tamper-evident enclosures are included
• Other security measures are implemented to meet compliance
framework requirements
• Helps organizations demonstrate adherence to data protection guidelines
• Facilitates audits when necessary
Enhanced Security
• DataLocker managed drive offers robust security features
• Hardware encryption is typically incorporated to protect data
• Advanced authentication mechanisms are utilized to prevent unauthorized access
• Sensitive information remains safe even if the drive is lost, stolen, or accessed by
unauthorized individuals
Data Recovery and Self-Destruction
• DataLocker-managed drives offer mechanisms for data recovery or
self-destruction in case of loss or theft
• Remote wiping of the drive's contents is possible depending on the configuration
• Wiping the drive renders the data unreadable, mitigating the risk of data breaches
• This feature ensures that sensitive information doesn't end up in the wrong hands
User-Friendly Interfaces
• DataLocker-managed drives have user-friendly interfaces and software tools.
• The interfaces simplify accessing and managing encrypted data.
• Authentication, encryption/decryption, and file/folder management have
intuitive workflows.
• The ease of use promotes user adoption.
• It reduces the risk of human errors that may compromise data security.
DataLocker DL4 FE Encrypted External Hard Drive
Our most secure, highest capacity hard drive has full SafeConsole capabilities and a FIPS 140-2 level 3 certification.
DataLocker (IronKey) H300 Encrypted External Hard Drive
A more affordable encrypted hard drive built for large rollouts.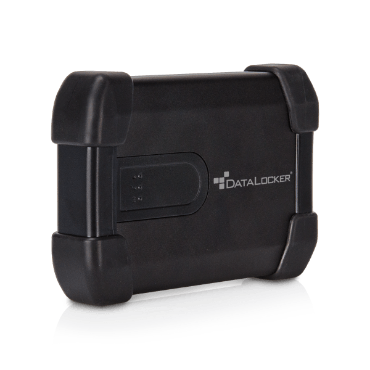 DataLocker (IronKey) H350 Encrypted External Hard Drive
A more affordable encrypted hard drive built for compliance.
The K350 is a password-protected, FIPS 140-2 Level 3 certified, encrypted USB drive featuring a screen that streamlines setup and operation.
A small, portable, and ultra-secure flash drive with a FIPS 140-2 level 3 certification and the first USB Mass Storage device to achieve full CSPN certification.
DataLocker Sentry 5

(Coming Soon)
DataLocker's Sentry 5 Secure USB Flash Drive, FIPS 140-3 Level 3 certification (pending), TAA-compliant trusted supply chain, caters to regulated organizations requiring CMMC, HIPAA, SOX, SOC2, ISO 27001, NIS2, CCPA, and GDPR compliance.