Product Resources
Unlocking DataLocker Product Resources: Delve into the Resilient Security of DataLocker Solutions.

---
SAFECONSOLE CENTRAL MANAGEMENT PLATFORM
---
Encrypted Storage
---
ALPHA SERIES RESOURCES
---
PROFESSIONAL SERVICES
SAFECONSOLE CENTRAL MANAGEMENT PLATFORM
Instantly gain complete and granular control over all of your encrypted USB flash drives and portable hard drives with the SafeConsole central management server software:
Achieve compliance for USB storage usage, with full control and audit.
Keep the productivity benefits of USB storage devices – without the risks of malware, data leaks and breaches.
Many agencies have strict IT requirements for deploying USB drives within their environments. DataLocker anti-malware service allows administrators to enable autorun malware defense as just one of the key features to meet and exceed these requirements. With an on-board antivirus that scans the files being stored on your secure mobile storage device, you can protect your files against viruses, worms, trojan horses and other malware threats when the device is being utilized on a Windows system.
DataLocker PortBlocker is a "Simply Secure" approach to Data Loss Prevention (DLP) for removable storage that blocks USB ports and allows only whitelisted USB mass storage devices to be mounted on user workstations with PortBlocker installed. DataLocker PortBlocker is a solution managed by SafeConsole to control which devices are allowed, set policies for different groups, see audit logs and activity, plus much more.
SafeCrypt is a storage agnostic, cross-platform compatible, encrypted virtual drive that provides a layer of AES 256-bit encryption for your data no matter where you store it. By establishing a virtual drive using SafeCrypt, files are encrypted locally at your desktop and stored on your preferred commercial cloud storage service, local storage, or network drive allowing users to take control of their encryption.
ENCRYPTED STORAGE
The DL4 FE is a FIPS 140-2 Level 3 Certified device built around a powerful AES 256-bit cryptographic hardware architecture that then adds layer after layer of security with automated policies that intelligently change its security posture based on its location, how it's being used, and the type of data being stored on it. The DL4 FE is a TAA compliant device that meets the strictest security requirements while offering large-capacity (up to 15.3 TB) and an easy-to-use touchscreen for setup and use. A powerful addition to the DataLocker line of securely managed solutions, the DL4 FE continues our proud tradition of providing Simply Secure™ solutions, plus it's backed by a limited 3-year warranty.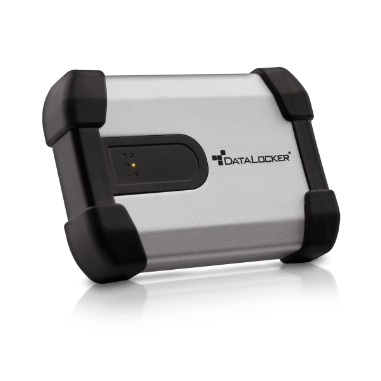 DataLocker (IronKey) H350 BASIC  – Designed to meet the high security and performance needs of enterprises and government agencies, the DataLocker (IronKey) Basic H350 is encased in a tamper-resistant, high-strength aluminum enclosure and features AES 256-bit hardware encryption, and USB 3.0 performance. Basic drives can also be upgraded to Enterprise drives. H350 drives are FIPS 140-2 certified.
DataLocker (IronKey) H350 ENTERPRISE* – Get all the same features as the Basic H350 plus cloud-based or on-premises centralized management to customize security policies, deploy and manage secure portable devices across networks and security environments with SafeConsole.
*Requires a SafeConsole license (sold separately).
DataLocker Sentry® 5  – Boasting hardware-based AES 256-bit encryption, the Sentry 5 is a game-changer in data protection. The device is designed for FIPS 140-3 Level 3 certification (pending)* and is TAA-compliant, utilizing a NATO-trusted supply chain that caters to regulated organizations requiring CMMC, HIPAA, SOX, SOC2, ISO 27001, NIS2, CCPA, and GDPR compliance.
Get robust security, including password protection and AES 256-bit XTS mode encryption. Available as optionally managed or forced managed with a SafeConsole® license (sold separately), streamlining administration by automating inventory management, policy enforcement, and audit processes. Sentry 5 is designed to withstand harsh conditions, boasting rugged, waterproof, and tamper-resistant features.
The K350 is a password protected, FIPS 140-2 Level 3 certified, encrypted USB drive featuring a screen that streamlines setup and operation. If the K350 is centrally managed, additional layers of organizational control strengthen the portable storage security posture further. Meet the strictest requirements and work with ease anywhere there is USB mass storage. The K350 is the slim and strong addition to DataLocker's complete portfolio of securely managed solutions, plus it's backed by a limited 3-year warranty.
Combining hardware encryption with plug and play simplicity.
Building on the design of our best selling Sentry 3 FIPS, the DataLocker Sentry ONE adds the flexibility of being centrally managed by either SafeConsole or IronKey EMS central management platforms. Utilizing 256-bit AES encryption, this USB flash drive delivers ultimate portability and security. This next generation, smart USB 3.1 GEN 1 drive is 100% hardware encrypted and is available in:
Managed Models – manageable by SafeConsole.
TAA COMPLIANT ALPHA SERIES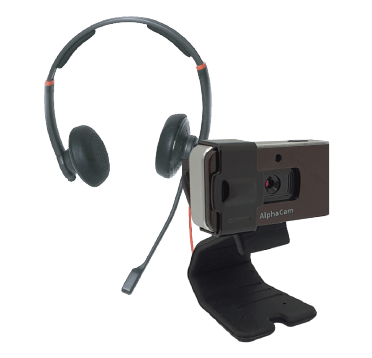 TAA compliance matters to federal agencies that must be certain they're not vulnerable to data breach. DataLocker's Alpha Series includes webcams and headsets to ensure that microphones, speakers, and cameras aren't a source of information leak.
AphaCam H and AlphaCam W TAA compliant webcams are optimized for a wide range of uses in federal agencies, government, public institutions, and business environments. Get high-quality live
video communication over the internet with easy setup that works with any hardware.
AlphaTalk High-fidelity TAA compliant headsets are developed with light materials for optimal comfort even through many hours of wear. The AlphaTalk headset comes with a 270-degree rotatable microphone, and passive (DOD-compliant) noise cancellation features, plus a 3-year limited warranty.
PROFESSIONAL SERVICES
Let our team set you up for success. Our professional services team will help you roll out your DataLocker secure solutions, whether a small implementation or a massive and complex one.
DataLocker Professional Services are designed to meet the unique needs of your DataLocker Solutions. Our Professional Services team of industry experts can help with initial planning, strategic consultations, comprehensive implementation or integration designs, and ongoing support and solutions training. In detail, we will provide a Scope-Of-Work (SOW) associated with your use cases.